Please note, we are currently closed for the winter season!
If you would like to purchase merchandise from our store or have a special request, please leave a message on our answering machine. We will be checking for messages periodically throughout the winter months.
See you when we reopen on April 2, 2015!
Happy Holidays from all of us at the Buxton-Historical Society!
Meg Gardner, Berty Ramsdell and Jan Hill with our tree at the Bar Mills Community Church
The Saturday, July 26 Box Lunch Social Charity Auction to support BHHS in the Brewster Mansion barn, with Bruce A. Buxton, Auctioneer Extraordinaire, was an exciting, successful and fun packed event once again this year. The addition of many wonderful door prizes enhanced the experience. Please join us next year!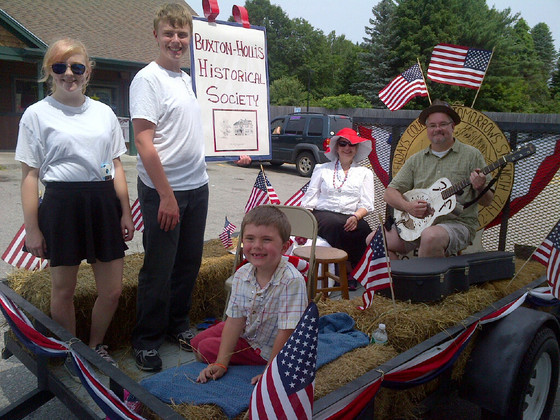 Our Float, Community Day July 19, 2014
The old Hollis High School has been sold to a private party and will be repurposed while maintaining its original appearance. More details later.
March 29, 2014. Clean up day to prepare for our opening on Thursday April 3, 4-8 and Saturday April 5, 9-noon. L-R, Janice Lane, Vicki Walker, Jan Hill. Not shown, Barry Plummer, Diane Longley, Nancy Pierce, Robin Randall-Milliken, Patrick, Brent and Axel.
Barry Plummer fits metal trim to repaired section of wall in hall at the historical society on March 29. Note the new wainscoting to be stained soon.

Rehabilitation in progress at our new headquarters, 100 Main St. - Jason Knight and Barry Plummer have been busy this winter restoring the moldings, wainscoting and trim in our large meeting room and the center hall. Looks great. Here are President Jan Hill and Elaine Sargent in front of a new section in progress.

Plans are underway for our first exhibit for 2014 which will be about Bar Mills in both Buxton and Hollis sides of the Saco. We will need to prepare our rooms first. If you have anything that you think would be important to display, please let us know. We will at least have exhibits on the Saco River Telegraph and Telephone Company, the old Buxton Hollis Hospital, the schools, the stores and the railroad.

See our new Video History Links on the menu at the bottom left including the N.C. Watson School, Life Story Workshop and other programs of interest.


See an excerpt of the "Buxton, Maine - An American Story" video documentary available on DVD on our Sales page.





See our Annual Meeting 2013 Menu at left for more pictures of the November 2, 2013 meeting

Annual Meeting 2013 Civil War Re-enactors guard the entrance to our new building.

President Jan Hill leads annual business meeting.

President Jan Hill and Vice President Buxton Barry Plummer receive gifts for their work on the new headquarters building.

Front entrance newly painted Summer 2013

| | |
| --- | --- |
| Removing old carpet prior to sanding floors. L-R: Jan Hill, Shannon Rooney, Diane Longley. | |
Diane Longley painting our new museum shop.

After pulling nails and plugging holes in the floor: Jan, Axel and Sue Orfant Gillette.

Organized and incorporated in 1970, the Buxton-Hollis Historical Society is a non-profit organization with partial support from the towns of Buxton and Hollis. The society's purpose is to collect, preserve and publish whatever may be related to the early and late history of the towns of Buxton and Hollis, including but not limited to books, relics and articles about early settlers, records of colonial and later wars, as well as genealogical information and maps.
Our Society's museum, library and archival collections include a wide range of materials documenting the rich heritage of this area of southern Maine and the Saco River Valley. The N. C. Watson School Museum at Buxton Center offers third grade classes and other visitors the opportunity to experience life in a one room school at the beginning of the twentieth century. Throughout the year, the Buxton-Hollis Historical Society provides lectures, cemetery and house tours, special exhibits, books and items of historic interest and educational activities for people of all ages.
We invite your support by becoming a member of the Society!